PEER HEALTH EDUCATION
Mission Statement
Empowering students to commit to their health and wellness through peer education
What We Do
Our Peer Health Educators (PHEs) are essential in disseminating health & wellness information to the U of U campus community. We work within an area of wellness (i.e., sexual wellness, harm reduction, violence prevention, mental wellness) to develop and implement relevant programming for our peers. We collaborate in small and larger teams to create meaningful ways for students to think about their health and wellness. Some of these ways include:
Facilitating educational workshops, discussions, and presentations
Assisting with creation of health education marketing content
Staffing mobile STI Testing Clinics
Serving as a wellness resource for peers
Participating in planning events and annual campaigns
PHE APPLICATIONS ARE OPEN FOR OUR 2023 - 2024 TEAM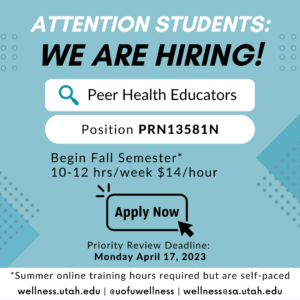 Are you looking for an exciting, rewarding paid student position?
The Center for Campus Wellness is recruiting for our 2023-2024 Peer Health Education team! Peer Health Educators are paid student staff for the office and will be tasked with facilitating workshops; staff our STI testing clinics and peer counseling; plan wellness events; assist with outreach, marketing, and tabling efforts; and so much more. This is a very special opportunity for students who are passionate about health and wellness to gain valuable experience in the field under the supervision of professional staff in our office. Majoring in a health-related is not a requirement. We are looking for passionate students who want to support their peers in improving their overall well-being through education, accessing services, and peer support. This position will begin in-person for Fall Semester with 10-12 hrs/week at $14/hour. *There is a mandatory Summer requirement of 25 hours of paid, self-paced virtual training.
Priority Deadline is Monday April 17th. We are conducting interviews before the end of the semester, so apply soon!
Apply at https://utah.peopleadmin.com/postings/146756
MEET OUR PHEs
ACES ALUM - WHERE ARE THEY NOW?
Our ACES Scholars graduate and continue on to do accomplish great things.
Check out our Student Alumni Network page here!