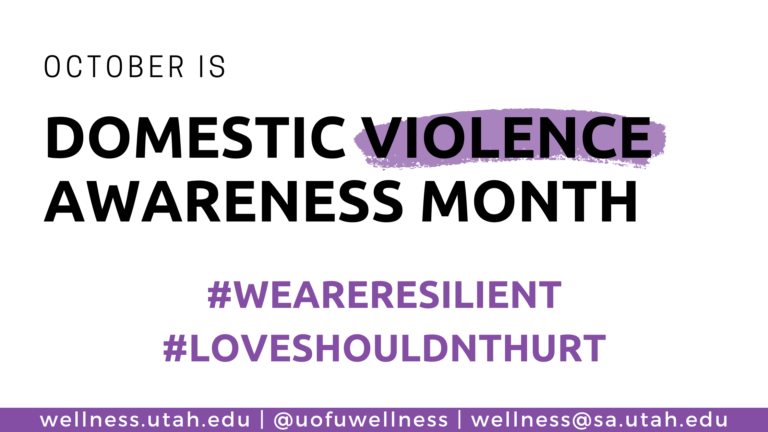 OCTOBER IS DOMESTIC VIOLENCE AWARENESS MONTH
Domestic Violence Awareness Month (DVAM) is an annual campaign to raise public awareness about domestic violence while supporting survivors and secondary survivors. It also gives us an opportunity to educate communities and individuals on how to prevent domestic violence. Domestic violence is a serious, preventable public health problem that affects millions of Americans. Follow along with us this month to learn more about domestic violence, attend our events, and spread the word across our campus community.
events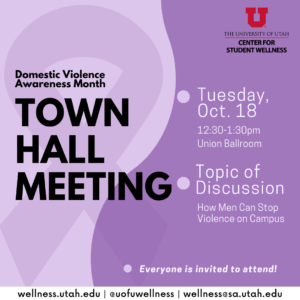 Town Hall Meeting
Tuesday, October 18th | 12:30 - 1:30PM | Union Ballroom
We are all influenced by rape culture. In this town hall, we will explore ways in which men can work towards stopping violence, and how we can all make our campus a safer and more inclusive environment. Everyone is invited to attend!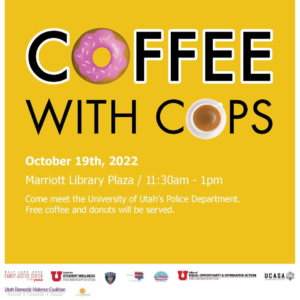 Coffee with cops
Wednesday, October 19th | 11:30 - 1PM | Marriott Library Plaza
Come meet the University of Utah's Police Department. Free coffee and donuts will be served.